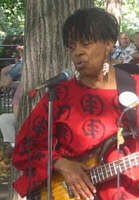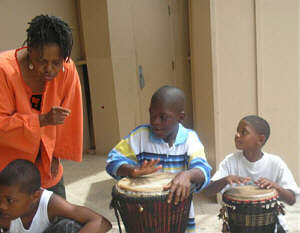 Within her organization, VOICES IN THE TREETOPS, Inc., Paula follows a family tradition - mentoring other artists in the integration of arts and social justice activism.
TREETOPS' mission is to give on-the-job training to elder and young artists alike. She translates issues, goals, messages, etc. into singing, dancing, story-telling, acting, or Image Theatre to enhance, energize, and unite divided or competing individuals, institutions and community service agencies. C.U.L.T.U.R.E.


Paula Larke, Director

Arts and Social Justice: Art in any form, most decidedly the performing arts, can engage the entire student and permit learning and retention on a deeper level. Issues too explosive to contain in normal conversation become manageable in the media of dance, drama, spoken word, video/film, song. A solo on a single instrument with the right message and presentation can change the emotional environment of an entire school auditorium full of hormonally charged youth. Art evokes the spirit, and the spirit, emboldened, becomes indomitable in the face of oppression. Art is also a common language and bringing teenagers together to share in music making, story sharing and art-creation allows for the recognition that we are more alike than we are different. This program creates space to share commonalities rather than focus on differences. Peace is made through shared understanding.
The Project: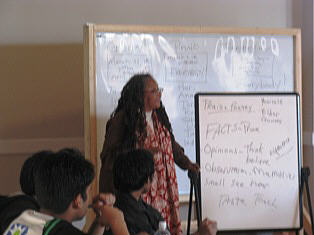 An after-school language and expressive arts enrichment program based on character education curriculum.


The activities focus on the effects of, and creative alternatives to, violence in any form, including hostile rivalries, gender or race based attacks, verbal intimidation.


Activities include: Role play, drumming, dancing. songwriting, spoken word, power-point presentations, graphic arts, music appreciation, dictionary creation, coffee-house style open mic days.


Individual and group theatre/conflict transformation exercises designed to increase and enrich language arts skills for American born and ESOL students, expand cultural literacy for both.


Forum and Image Theatre, etc. is used to express rules of speech in different cultures and vernacular while discussing character values in each.


Performance "Giving Honor, Seeking Blessing" ceremony/ open mic / featured performance and dinner event for family and friends.
PAULA LARKE
(404) 492-1946
paula@paulalarke.com