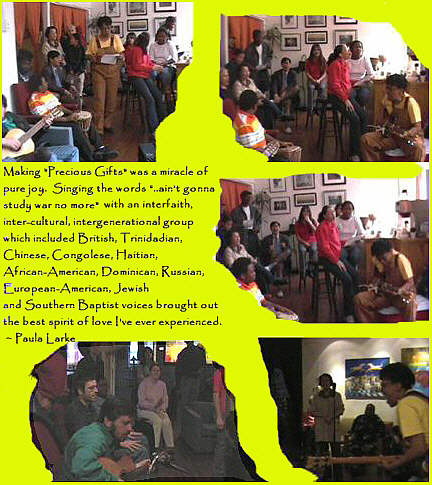 Peace knows no
language boundary
While in residence with Riverside Church, Paula Larke worked with a diverse group of people to create the music CD, Precious Gifts. It is an example of the magic that can happen when all people come together for a common purpose. Listen to a sample of the CD at http://www.paulalarke.com/music.htm#precious_gifts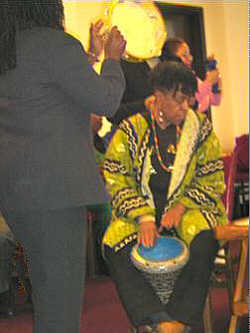 VOICES IN THE TREETOPS works, with music and stories, for Latinos at Riverside Church to bring neighbors into one accord
Arelis Figueroa (0n tambourine, left), Latin-American liaison, is founder and Director of Latinos at Riverside. Paula Larke, founder and Director of VOICES IN THE TREETOPS plays Kim Nimoy's drum for Kwanzaa celebration which united Riverside members – all US citizens - from the USA, Ghana, Nigeria, Korea, Puerto Rico, Mexico, Cuba, and the Dominican Republic.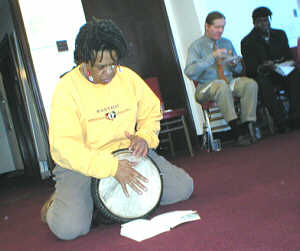 Paula Larke sets the mood and gets discussion going with drum and text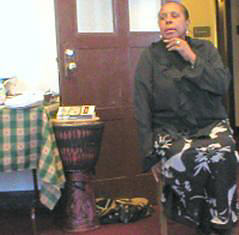 Ofelia Rodriguez explains the segregationist term "Cocolos" used in Dominican culture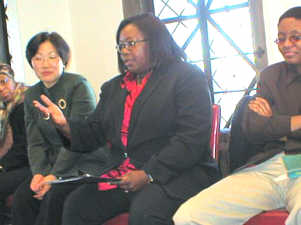 With Latinos @ Riverside encouraging Intercultural Dialogue and Language Exchange
Puerto Rico, Korea, Dominican Republic, Cameroon – listening and learning about each others' immigration and assimilation experience at Latinos @ Riverside featuring Paula Larke as drum call and context poet. Dominican participant reads a poem by her young cousin on the assimilation - without -sacrificing -culture –quandary facing young 2nd generation Americans.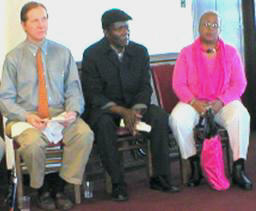 VOICES IN THE TREETOPS joins Latinos @ Riverside in encouraging conflict resolution and maintenance of international relations
Understanding our differences, listening to the voice of one young immigrant poet

Back to Top